Mindfulness Meditation
Mindfulness skills
help you remain calm when life is challenging. Through developing your awareness of unhelpful thought patterns, you can choose to relate differently to stressful events in your life, be more accepting of difficulty when it arises as it inevitably will and feel more alive. There is considerable evidence from neuroscience that demonstrates that we can all benefit from integrating Mindfulness skills into our lives. Mindfulness can help improve memory skills, help us be more focussed, boost our immune system, reduce anxiety, support creativity, help us to be kinder towards ourselves and others…
For Individuals:
Karen Wood offers mindfulness training for individuals at The Rooms
Do you often feel like this?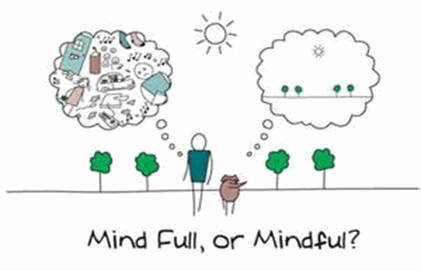 Then Mindfulness might be for you.

I can offer individual Mindfulness sessions to suit your lifestyle and presenting issues. These can range from a couple of sessions right up to a longer programme. Sessions normally last 50 minutes weekly. However, this can be negotiated to an agreement that suits you and your lifestyle. During our first session we will discuss the way in which you wish to learn and you're pacing.
It might be that you want a couple of sessions after you have completed your therapy with another therapist at The Rooms or you would like to learn Mindfulness from a health and well-being perspective. Or you may just simply have a curiosity about learning something new and beneficial to your health and wellbeing.
Mindfulness interventions and approaches are used across the spectrum now for Anxiety, Depression, Health and Well Being and Pain Management to name a few.
So what is Mindfulness?
Mindfulness is derived from ancient Eastern practices. Mindfulness means,
paying attention in a particular way, on purpose, in the present moment – non judgmentally.
Mindfulness does not conflict with any beliefs or traditions, whether religious cultural or scientific. It is simply a practical way to notice thoughts, physical sensations, sights, sounds, smells, - anything we might not normally notice. The actual skills might be simple, but because it is so different to how our minds normally behave, it does take practice. This is where I will help you firm up your intentions to learn and encourage you to keep focused.
So why learn Mindfulness?
Ask yourself how often do you go through life on 'automatic pilot'? Over thinking, worrying, planning, ruminating and generally not being fully present in your lives? Not being mindful of what is taking place in the 'here and now'. Being more mindful offers us the opportunity to change some of these 'mental ruts' that we have got into.
By learning to be more mindful we are offering ourselves another way to be - By practising Mindfulness we can learn there is another way to live. So, when we go for a walk we really notice every detail and all we encounter –whether this be the trees, cars, sounds, scents, weather, season -rather than ruminating on our 'to do lists'.
So what does learning Mindfulness involve?
There are no special skills required in learning Mindfulness, just a commitment to the practices and a willingness to embrace something new with curiosity, kindness and a trust in your experience - a sense of
'Beginners Mind'
. Mindfulness is not something you can do wrong. Everyone can learn to be more mindful.
After we meet I will explain the concept of Mindfulness and be an encouraging participant on your journey. I will go through some of the meditation practices and offer guidance as to how and when you do them. The practices can range from 3 minutes to 40 minutes. Also please note that some of these do not involve sitting crossed legged on the floor! Again, as mentioned we go at your pace and to suit your lifestyle.
How do I know what might help me?
As mentioned above, I will discuss this with you and we can work out which Mindfulness approach will suit you. I may recommend some books eg 'Finding Peace in a Frantic World' by Mark Williams and Danny Penman. But it really depends on what your needs, presenting problems or intentions are and how you wish to benefit from Mindfulness. Again we can explore and discuss this.
Normally for the book mentioned above, which would normally be used to address stress/anxiety symptoms, it would be a 6-8 week programme and maybe some follow up sessions.
How might I benefit from learning Mindfulness?
People who have practiced Mindfulness reported the following improvements to their lives with regular practice:
• Feeling calmer
• Having more energy,
• Increased self-confidence,
• Self-acceptance
• Being focused.
A bit about me
For information I am an Accredited Counsellor, Supervisor/Couple Counsellor/Group Facilitator – with a history of working privately and within the NHS. I am also a qualified Integrated Mindfulness Teacher (Salford University 2009-2012).
As well as individual Mindfulness sessions with clients and staff, I have also co-facilitated several Mindfulness Groups for patients/staff in the NHS. For example I was a co-facilitator of a Mindfulness Based Cognitive Therapy Group at Stepping Hill Hospital Stockport from 2010 – 2015. I have also been involved and instrumental in facilitating Mindfulness Well Being Sessions for staff in the NHS. I also co-facilitated an Anxiety Management Group for Mersey Care Liverpool for 5 years.
If you are interested please contact The Rooms and an appointment can be set up for you to begin your sessions.
For Groups:
If you are an employer interested in offering a taster or a full mindfulness course, Suzanne Bethell, one of our mindfulness trainers, can deliver these on your premises.
For further information please contact us.